About Company
Assistance in searching for a doctor at any point of the city around the clock. Providing the info about licensed clinics and medical specialists.
Registration and authorization
The identification in the system is required before calling the specialist. When a user type phone number a one-time code is sent through an SMS to the user's mobile phone. In this way there is no necessity of remembering the password and the user receives the service fast.
Onboarding
The purpose of these screens is to introduce the application and show the value for users.
Search for a doctor
Calling a doctor has never been so easy! Users got the online map with all available specialists in the city. One can choose a doctor by clicking it on the map or order the service from the list with applied filters. Every specialist has its own profile with main info: specialization, work experience, workplace, and the price of the call.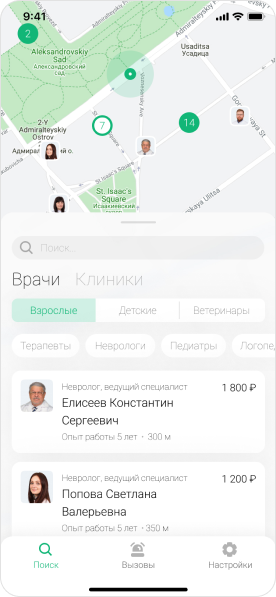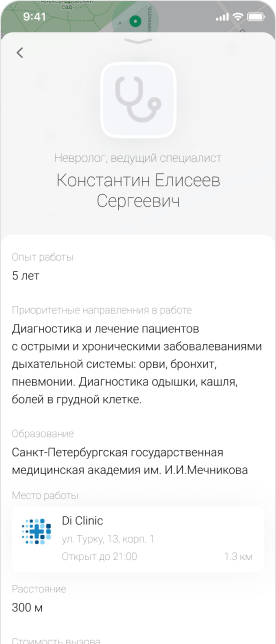 Call a doctor
When the suitable doctor is chosen the user goes to the order form to fill the personal info and choose the payment way.It is possible to pay for a call by cash, with a card or online. For your safety payments we integrates with the payment system of Tinkoff Bank as well as Google and Apple Pay.
Appointment and history
Status of the called doctor is shown in the Calls section. After the appointment the doctor fills the treatment plan and the user leaves a comment about the doctor and appointment. The history of calls is always at hand and contains helpful information: the doctor's profile information, the plan of the treatment, and the comment about the doctor.
The app for doctors
Doctors are often on their way, so we have created the other application for their convenience. The specialist gets access after the moderation and can accept calls. And after an appointment the doctor draws up a treatment plan and puts it to the user's history.